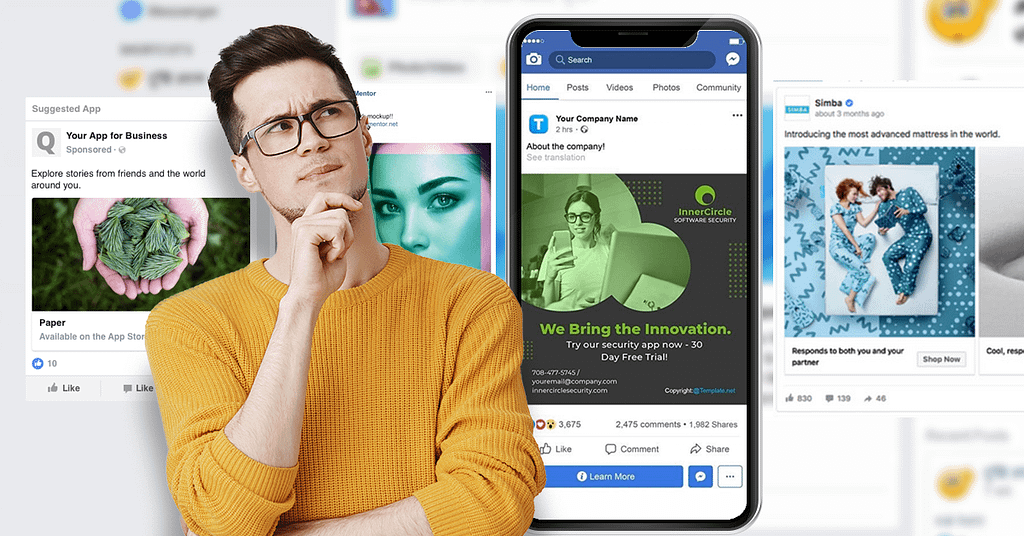 Over the years, the advertising industry has evolved and been greatly transformed by social media platforms and the Internet. Compared to traditional marketing, businesses now have cheaper options to advertise their products and reach their target markets. And one of the platforms delivering incredible opportunities for businesses today is Facebook. If you're looking for a way to thrive, this social media platform is worth including in your strategy. Let's dive into everything that you should learn first about Facebook advertising.
What is Facebook advertising?
While the app was created back in 2004, Facebook Ads just made its way to the market in 2007. Before that, the platform was focused on filling users' news feeds with posts from families and friends. As Facebook Ads has evolved, it's become one of the biggest social media platforms helping businesses promote their brands.
Through paid social, Facebook ads can appear on a user's news feed and other areas of the platform. Paid social is designed to help businesses find potential customers by targeting people who are likely to be interested in their products and services. You can look at Facebook advertising as a place for organic posts, highly targeted paid ads, and where you can showcase your brand to a massive audience.
How does Facebook advertising work?
The first thing to note is one of Facebook's primary goals is to effectively allocate the limited ad space they have, and they do it through auctions. Here, marketers will place bids and compete for a specific ad space. But as the platform optimizes the total value of auctions, the winners are determined based on their total values, not the highest bids.
If you win, you can showcase your ads to the people you defined and selected. As for the total cost, factors such as placement, proper campaign implementation, audience, and target country are all considered.
Why should you consider Facebook advertising?
One primary reason to consider paying for Facebook ads is to reach audience that you couldn't typically—from people traveling around the globe to locals you've never come across. The platform offers you the ability to create a free business page and effectively promote your brand to new customers for very reasonable rates.
Given its monthly active users and extensive targeting and retargeting tools, there's no great reason to not take advantage of Facebook advertising. From growing brand awareness and generating leads to increasing sales, there are plenty more opportunities to expect here. To better understand how Facebook advertising works and what benefits are there, check out our list below.
1. More affordable rates
Facebook advertising is definitely more affordable than traditional advertising. For instance, it might cost you about fifty dollars to showcase your brand to about one thousand consumers. As for Facebook advertising, promoting your products to the same amount of people can just cost you around five to eight dollars, if the ads are properly used.
But while clicks and conversions in Facebook are generally cheap, keep in mind that they still require proper targeting. The platform's targeting features and functionalities continually improve, and marketers can reach their targets for an affordable price if they utilize ads the right way. One instance where you may likely be paying more is when you're testing your ads. Testing is necessary and pretty normal, but it's still best to set a budget for it.
2. Wide user bases
Want to have access to huge user bases? Facebook can help you with that. As a matter of fact, according to a recent study in Statista, Facebook now has over 2.7 billion monthly active uses, making it the first social network to have more than one billion registered accounts. It is vital to note, though, that this great number of users comes from various demographics. Nevertheless, regardless of what particular group of audience you're trying to reach, you have a great chance of finding those targets on Facebook.
Take note that Facebook has also been decreasing the visibility of business pages over the last few years. So if you really want to get access to their large user bases, you will need to use ads, which are definitely worth every penny.
3. Full-funnel targeting
Facebook Ads' sales funnel can help you get the attention of your prospective customers and lead them into making a purchase. Here, you are creating ads that work in a sequence. Depending on whom you ask, the digital sales funnel is generally made up of four or five stages. As for a Facebook Ads funnel, it has four:
Attracting customers
Generating leads
Converting leads into paying customers
Generating loyal customers and referrals
With Facebook's capability to cater to every stage of the buyer's journey, the platform's targeting options and ad formats can work well with different marketing strategies. This is also useful if the individuals you're targeting are just starting their research with a mindset to buy.
Depending on your goals and industry, the platform also offers a variety of custom buttons. You can use them in your ads with a particular call to action to better align your ad copy to your goal.
4. Content promotion
If you're looking to scale up your content promotion, you can easily do so using Facebook advertising. Whether you're planning on creating content for a new ad campaign or want to reshare some old, great content hidden on your website, Facebook is the best place to share them. By investing in Facebook ads, your content could get thousands of views—even way more than you could get organically.
Tip: When promoting your content, make sure to choose precise targeting. You can segment people based on their interests, locations, and demographics. Taking advantage of these audience targeting options will allow Facebook to think that your content is relevant. In addition, pick the right creatives for your ads. Plan your copy to evoke feelings and emotions—you need a headline, description, and the copy itself. Next, use the visual that best suits your content message. You can opt for videos, question formats, or photos. Do a split test to better identify what topics and types of content work best for your brand.
5. Variety of ad format
When it comes to the range of ad options, Facebook leads with over nine formats available. These include Image, Video, Messenger, Stories, Slideshow, Carousel, Playable, Collection, and Instant Experience. Almost all these options provide some visual and text elements to help marketers describe and promote their brand.
Furthermore, these Facebook ad formats are also useful for the funnel stages, in which you utilize a combination of words, images, or videos to attract and engage with potential customers.
6. Robust analytics
Getting accurate and timely reports and analytics is another great thing to expect from Facebook. You never have to struggle again when checking how your ads are performing because Facebook can give you those conversion rates and various social metrics on their Ads Manager. You have access to metrics regarding various things such as page likes, post engagement, weekly reach, and top-performing posts. Apart from that, you'll also have insight into clicks, conversions, and sales.
With access to such data, it's easier to see which campaigns are working and which are not. And since you have access to real-time reports and can track even the tiny details, you can also adjust your ads and strategies based on the data.
In case you want a more accurate picture of how your ads are performing, you can opt to use social media management tools. These include Hootsuite, Google Analytics, Agorapulse, BuzzSumo, Falcon.io, Sprout Social, TapInfluence, Keyhole, Snaplytics, HubSpot, ShortStack, Meltwater, BrandMentions, and more.
7. Advanced remarketing tools
We've seen how Facebook has transformed into an effective marketing machine, helping various businesses and organizations to grow. One of its greatest features is access to effective remarketing tools that marketers can utilize to attract people who've come across your brand before yet are still in the awareness phase.
For example, if a consumer sees your product on your website but didn't proceed with a purchase even after having an interest, Facebook remarketing is useful to promote that item to the consumer again in the future. One obvious reason as to why this is possible is that the platform is recreational, and people are active here almost all the time.
8. Engagement
Customer engagement plays a vital role in your ad campaign's success, which is also crucial to maintaining customers' interest in your brand while building trust. For instance, instead of just using text and images, taking advantage of other ad formats such as Messenger can establish more engagement with your new and existing customers.
Consider your Facebook profile as a critical digital extension of your business. Make sure your customers are constantly reminded why your products and services are valuable, and Facebook ad tools and targeting options can make that happen.
With today's highly competitive market, it is more challenging for a business to be successful without a social media presence. If you want to expand your reach, attract leads, and convert strangers into paying customers, Facebook is the right place to do it.
If you're a beginner in advertising on Facebook, our seasoned team here at Feedback Systems can help you unlock its full potential. From setting up an ad account, building your target audience, and choosing ad placements to creating the ad itself, our experts can take care of everything. Find out more about our tailored services and flexible pricing by shooting us a message here.