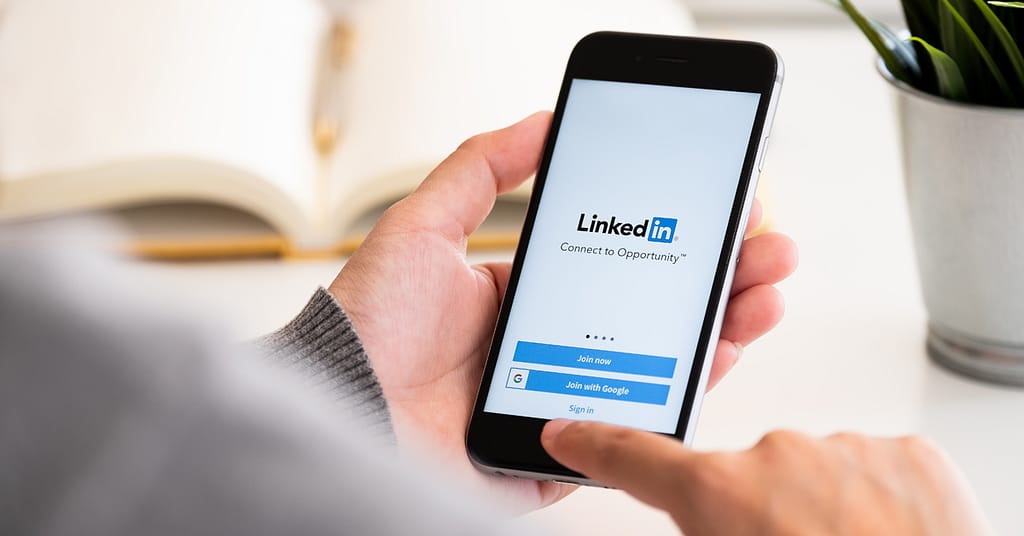 Today, businesses are taking their advertising strategies to LinkedIn. The platform is perfect for B2B marketers who are carrying out paid advertising. From offering unique advertising types to having a tremendous audience, the LinkedIn ad network absolutely has a lot more to offer.
But in order to have a successful LinkedIn ad campaign, it's best to first identify your goals and the objectives that will help you deliver better results. Learn how to choose the right goals and objectives for your campaigns using the three phases in a potential buyer's journey.
Awareness – Ad campaigns focused on this stage aim to reach as many potential customers as possible, as well as boost brand awareness and visibility. For this, less sales-oriented and promotional content is more effective. Using stage-specific, target keywords is recommended to make your content discoverable.
Consideration – Such campaigns aim to show potential customers how a product can be beneficial for them or how the business can help. If you want your targets to click through or interact with your ads through liking and commenting, focus on website visits and engagement. Video view is the objective to opt for if you want people to watch your video ads. Put extra effort into creating quality content for better conversions.
Conversion – Campaigns focused in this phase are made to acquire quality leads using LinkedIn's Lead Gen Forms and track conversions using form fills on the website. If you're planning for conversion campaigns, focus your ad copy on promoting your brand more and educating less. The goal here is to sell.
DIFFERENT TYPES OF LINKEDIN ADS
Let's now briefly discuss the various ad types available on LinkedIn. Just like in other social ad platforms, you need to choose the best ad type based on the overall action you're aiming at. And here are some of the ad formats we're talking about.
1. Sponsored Content
While you might think this feels quite native, Sponsored Content ads are still an effective format for many reasons. By sharing relevant and interesting content, you can drive people to a landing page and promote updates on your brand.
If there's a new post on your LinkedIn company page, this type of ad can be used to get more engagement, such as likes, shares, and comments, in an effort to reach more of your potential customers. In addition, it can be used to get click-outs from LinkedIn to your website or used with a Lead Generation Form within LinkedIn to capture leads. Sponsored Content is perfect if you want to boost your followers, generate leads and engagement with prospects, boost qualified traffic to your pages and posts, and most of all raise awareness of business initiatives. For this type of ad, you can advertise using a video, an image, or a carousel of images.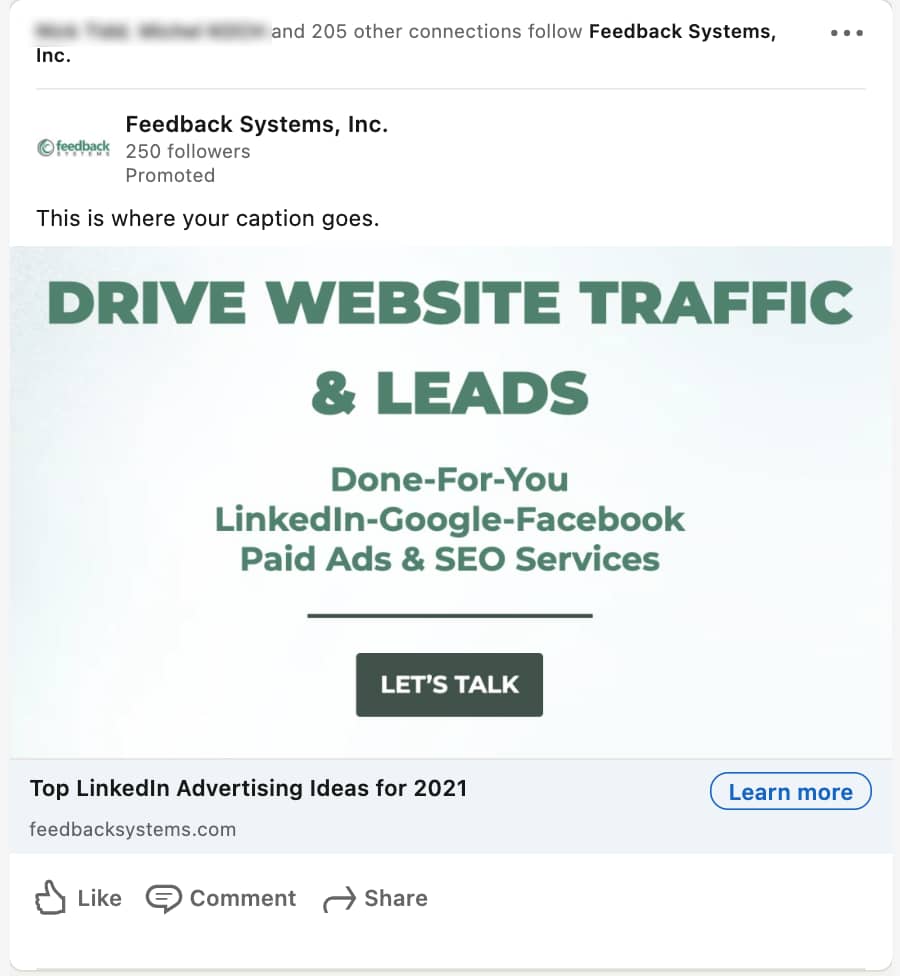 2. Message Ads
If your goal is to promote webinars, generate B2B leads, or drive downloads of gated assets, opt for Message Ads. For these, your sales team can create personalized messages and curate the list of contacts to send them to.
This ad format also consists of a personalized greeting, body text, link to the message body, and call-to-action button. Advertisers can use this by paying either per unit for each delivered message or on a cost-per-send basis. Another thing that makes this ad type great is that it will automatically appear at the top of the recipient's inbox. So if you want to guarantee 100 percent deliverability, Message Ads are the way to go.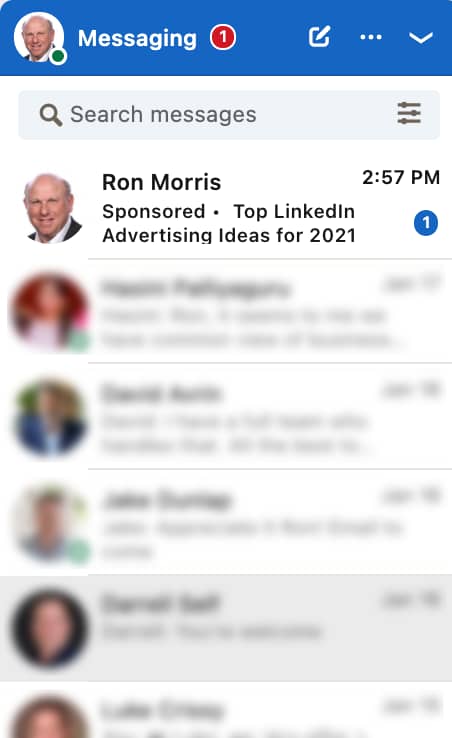 3. Text Ads
Another LinkedIn ad format is Text Ads, which is perfect for brand awareness. This is ideal for advertisers who want to drive site traffic, target a highly specific B2B audience, and easily set up measurable campaigns. While this format is easy to create and manage, the ads can only run on a desktop. They are displayed on the inline or side rail and come in a range of sizes. In case you don't know, such an ad is a basic text block with a headline next to the business logo.
Furthermore, Text Ads allow you to choose a professional target audience, set an ad budget, monitor leads using a conversion tracking tool, and pay for ads that work. If you are opting for an easy and quick campaign, a Text Ad is an ideal option.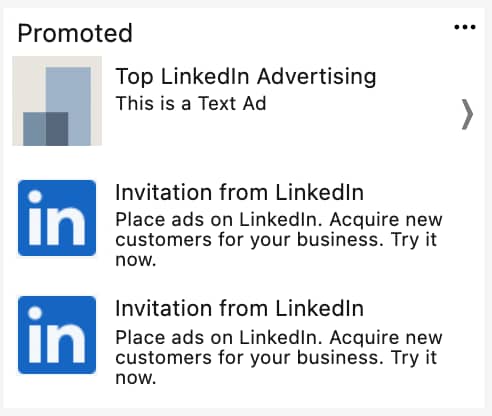 4. Dynamic Ads
Like Text Ads, this format is also only available on desktop and can be seen on the right rail. Do you want to engage with and drive users to like your company page? These dynamically generated and personalized LinkedIn ads can do the work. They are also ideal for generating leads instantly and promoting content downloads or your company page.
Apart from that, Dynamic Ads are ideal for advertising job openings. They have auto-translation selections and set templates for a more personalized ad experience. The results can also be measured and optimized directly in the LinkedIn Campaign Manager.
So basically, LinkedIn advertising supports website visits, conversions, brand awareness, lead generation, engagement, job applications, and video views. And by using these ad formats the right way, you can boost your site's traffic and maximize your leads.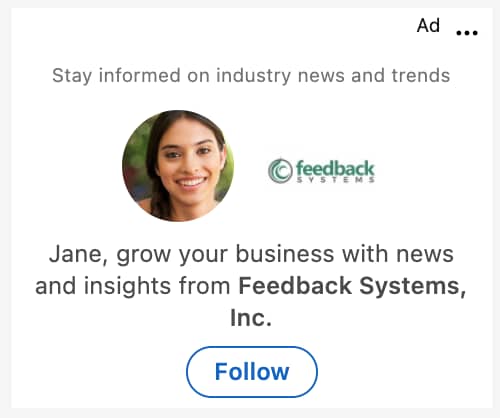 LINKEDIN AD IDEAS TO CONSIDER FOR 2021
LinkedIn is truly a great place for businesses to nurture leads. Advertising on this platform can give you a better quality of individuals to target. Plus, most users here can be more open-minded to your messaging, as you're engaging with them in a professional setting.
Apart from that, LinkedIn ads make it easy to target by industry, skill set, degree, and job title, as well as locate a more relevant audience. To help you have a high conversion rate for your LinkedIn ads in 2021, here are some useful tips.
1. Short ad copy
Short yet catchy and enticing ad copy always does the magic. If you want to instantly catch the attention of your target audience, give them the facts straight up or be direct with your messaging. People will likely scroll past your ad copy if they see it's too long. Users of the Internet typically don't want to spend too much of their time on something that isn't even interesting at first look.
For instance, if you are creating a Message Ad, it must include a link and a character count of one thousand or under. While many marketers say more people click on their links if the message is sent on weekends, it's still recommended that you test different times of delivery yourself.
The suggested character count for the headline of a sponsored content is one hundred and fifty, while its description is seventy characters or fewer. In fact, according to LinkedIn's blog, posts with fewer characters perform 18 percent higher than longer content.
On the other hand, if you're planning to create a sponsored video, make sure it isn't longer than thirty seconds. However, if you'll use the video in your sales funnel, you can make it from ninety seconds to a couple of minutes.
2. Limited jargon
Another important thing to note is that the message of your copy needs to be conveyed effectively. It should be concise and clear. Keep in mind that when you're writing copy for ads, you're also showing the audience your knowledge of the industry.
Now, while utilizing jargon is quite fine, remember that overusing it can have a bad impact on your ad. It's industry-specific language, so make sure to use the right words or phrases in your copy. Don't throw all the jargon into your copy, or else people won't even click it. Ad copy should be easy to understand at all times.
3. Audience Expansion
One of the smartest features you can find in LinkedIn is their Audience Expansion. Such an option is perfect if you're trying to improve your campaign's reach by displaying ads that possess a similar quality to your target market.
There's this feature function called lookalike audience where you can add extra individuals outside of your selected targeting options. Of course, these additional people will have the same characteristics as your target audience. In addition, you can set exclusive parameters, like not showing your copy to competitors. The Audience Expansion will then recognize those exclusions.
LinkedIn even said that advertisers who used the lookalike audiences were able to boost their audience reaches five to ten times their original sizes. Indeed, such a feature function is a helpful tool for reaching LinkedIn users similar to your current customer base.
4. LinkedIn interest targeting
In case you don't know, you can actually add interest categories to your LinkedIn campaign. It may not be as strong as Facebook's almost unlimited library of interest parameters, but LinkedIn's interest targeting options still provide what they can.
Here, users can choose to target small interest categories such as human resources and company acquisitions or broad ones like business and management. Interest targeting options are also based on the users' interactions with different LinkedIn accounts and posts, as well as their Bing searches.
Another tip, if you're not sure what interest topics to pick, is to check the content trending on your LinkedIn company page or blog. Check out the topics that perform well and use them for interest targeting. Nevertheless, we still recommend that you test it out on some of your campaigns first since it's still a new feature on LinkedIn.
5. People-centric visuals
As you know, LinkedIn is a place where people aim to connect with other people. For this reason, a piece of content that features people is likely to perform well. But to be able to create remarkable visual content, you need the right mixture of illustrations, words, and designs.
Moreover, avoid using images of low quality or small size. For instance, the recommended size of an image for Sponsored Content is 1200 x 627 pixels. In fact, content with larger visuals has an up to 38 percent higher click-through rate. Find or shoot photos that put people first.
Need assistance in creating an effective LinkedIn advertising strategy? Here at Feedback Systems, we provide social media advertising and strategic planning that can help your business win this new year. If you would like to find out more about us and the range of services we offer, kindly head over to our website and fill out the contact form.